Pet Dwelling QR Code-NFC Pet ID Tags
Pet Dwelling Scannable QR Code Pet ID Tag - Online Pet Profile - Receive Instant Email Alert - Scanned QR Tag GPS Location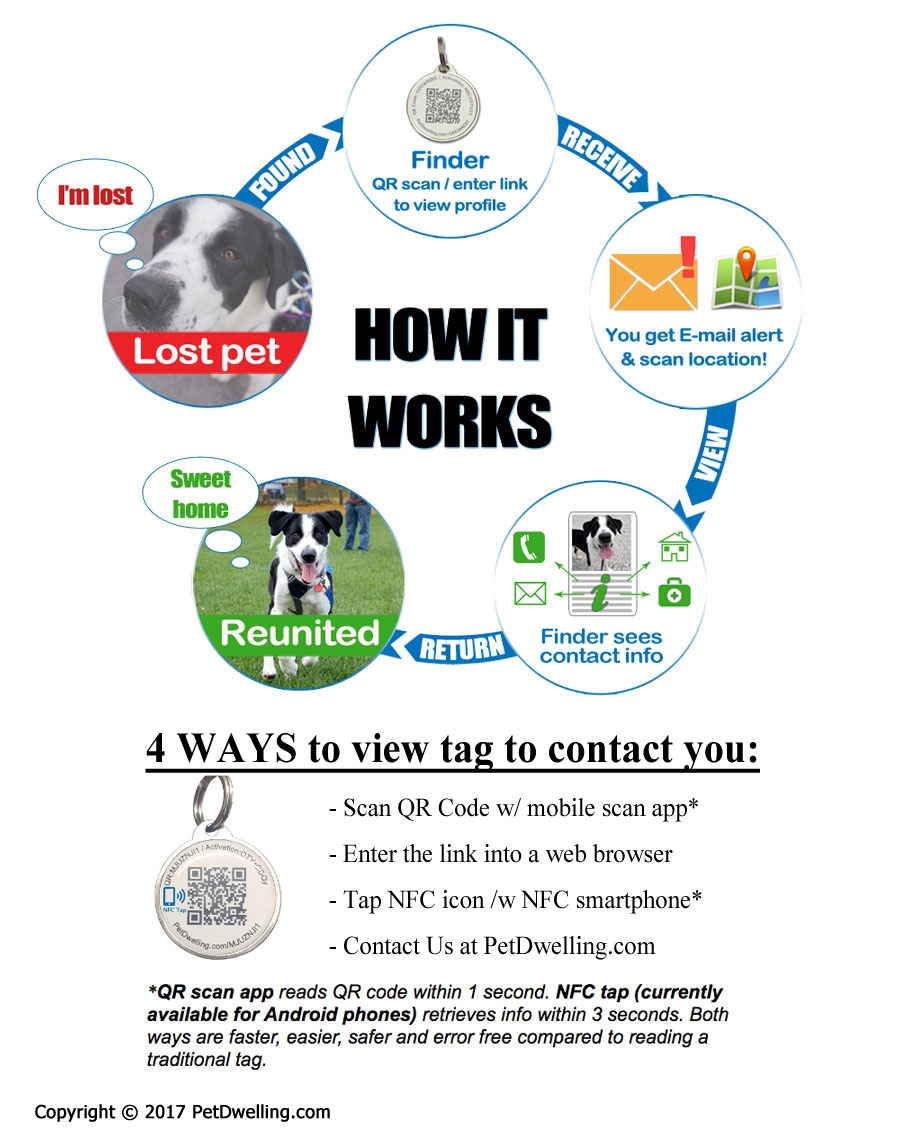 Quality: PD tags are made of non-toxic Zinc. Durable, long lasting and non-fading QR code. Tag size: 1.14 x 1.26 x 0.06 inches, weight: 0.35oz. PD tags are 30-days money back guaranteed.
Personalized: Pet profile with pet's name, photo, description, owner contact, medical and vet info, GPS location all in place for you to take full control of your pet. An exclusive cloud storage of your pet.
Setup and use: Create Account, scan QR to activate tag to link pet profile. Finders scan the QR tag or visit the tag URL to view profile to contact you to return your missing pet, you will receive an Instant Email Alert with finders scanned GPS location. No Apps needed. Free to use!
Added value: Multiple ways to access tag and contact PD live support for assistance. Owner privacy setting, One pet can link to multiple tags for swap. One account manages multiple pets. View nearby pets. Exclusive cloud storage to upload images and videos of your pet.
Reliability and Safety: Pet Dwelling founded in NYC 10 years ago. PD has served 300,000+ members and helped thousands of pet owners reunite with their pets. Pet Dwelling prioritizes user information and data privacy. Pet Dwelling is Reliable, Trustworthy and Free to use!
BLACK FRIDAY&CYBER MONDAY DEAL:
Purchase $10+ to receive a 50% discount. Enter coupon code: THANKYOU to apply coupon at check out.



Premium QR Code Tags
| | | | | | | | | | | | |
| --- | --- | --- | --- | --- | --- | --- | --- | --- | --- | --- | --- |
| | | | | | | | | | | | |
Premium QR Code Tags w/ NFC
| | | | | | | | | | | | | |
| --- | --- | --- | --- | --- | --- | --- | --- | --- | --- | --- | --- | --- |
| | | | | | | | | | | | | |
Fun Series QR Code Tags
| | | | | | | | | | | | | | | | |
| --- | --- | --- | --- | --- | --- | --- | --- | --- | --- | --- | --- | --- | --- | --- | --- |
| | | | | | | | | | | | | | | | |
Fun Symbol QR Code Tags W/NFC
| | | | | | | | | | | | | | | | |
| --- | --- | --- | --- | --- | --- | --- | --- | --- | --- | --- | --- | --- | --- | --- | --- |
| | | | | | | | | | | | | | | | |
Service Dog QR Code Tags
| | | | | | | | |
| --- | --- | --- | --- | --- | --- | --- | --- |
| | | | | | | | |
Service Dog QR Code Tags w/ NFC
| | | |
| --- | --- | --- |
| | | |
ESA QR Code Tags
| | | | | | | |
| --- | --- | --- | --- | --- | --- | --- |
| | | | | | | |
ESA QR Code Tags w/ NFC
| | | |
| --- | --- | --- |
| | | |
Light QR Code Tags
| | | |
| --- | --- | --- |
| | | |
SPECIAL PROMOTIONS
| | | | | | | | | |
| --- | --- | --- | --- | --- | --- | --- | --- | --- |
| | | | | | | | | |