Pet Dwelling ID Tags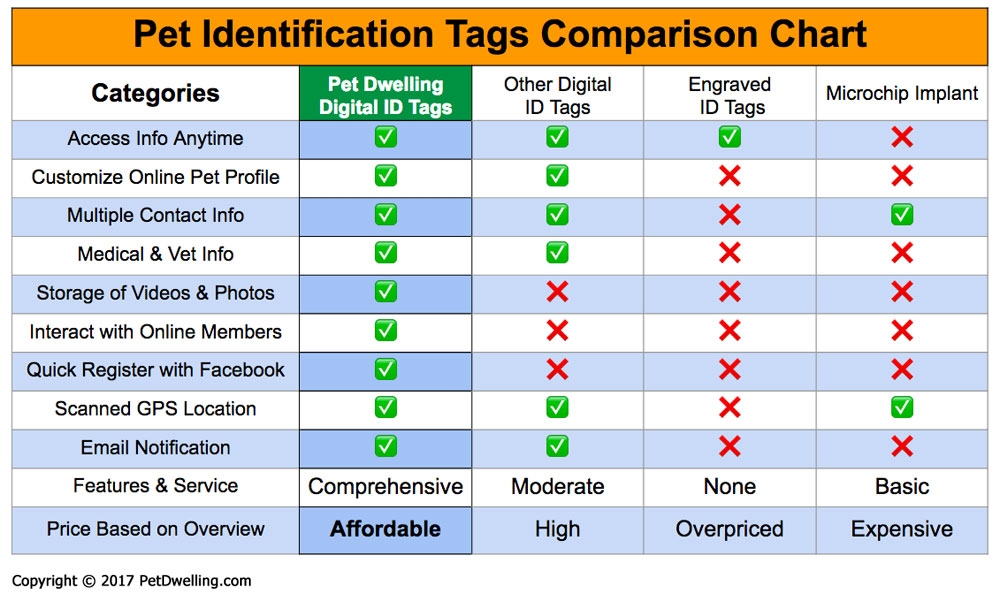 Get a QR tag that links to your pet's online profile to keep your pet protected and connected!
PD Pet tag includes a Pet ID tag, 30mm Keyring, 15mm Split Ring and User Manual packed in a zip pouch.
Scan QR code or Enter URL to activate and to access online pet profile. Anyone that finds your pet can access pet's profile to return your pet.
FREE online pet profile includes Photo, Emergency Contact, Medical info and vet info. Secure cloud for unlimited photo and video upload.
Members receive Instant Email Alert and Scanned Location Stamp on Google Map on your pet profile. Private post option on timeline, Lost Pet Poster and 24/7 support.
One account can manage multiple pets. One pet can link to multiple tags. Change and update profile information any time and any where.
Pet Dwelling ID Tags are 30-Day Money Back Guarantee. 1-Year Limited Warranty for defect tags.
Pet Dwelling has served 100,000+ members and helped hundreds members recover their lost pets in last 10 years. Pet Dwelling is Reliable and Quality Service Guaranteed.
HOLIDAY SPECIAL:
Purchase two tags or more and receive a FREE Limited Edition PD QR ID Tag keychain!



Premium QR Code Tags
| | | | | | | |
| --- | --- | --- | --- | --- | --- | --- |
| | | | | | | |
Premium QR Code Tags w/ NFC
| | | | | | |
| --- | --- | --- | --- | --- | --- |
| | | | | | |
ESA QR Code Tags
| | | | |
| --- | --- | --- | --- |
| | | | |
Service Dog QR Code Tags
| | | | |
| --- | --- | --- | --- |
| | | | |
Light QR Code Tags
| | | | | | | | | |
| --- | --- | --- | --- | --- | --- | --- | --- | --- |
| | | | | | | | | |
Fun Series QR Code Tags
| | | | | | | | |
| --- | --- | --- | --- | --- | --- | --- | --- |
| | | | | | | | |
PlayBalls Series QR Code Tags
| | | |
| --- | --- | --- |
| | | |